Your CV's wingman, a cover letter functions as a way of introducing yourself to employers. It is your first opportunity to make a good impression and impact, as well as explain your current situation, employment status, skills and capabilities.
A cover letter is not always compulsory. Now and then, recruiters request a cover letter with your CV. However, these days, with job applications via platforms such as LinkedIn, it's less common. We recommend attaching a cover letter when emailing a job application, as this is a formal and polite way of presenting yourself via email.
When writing a CV, your personal information is compact and mostly bullet pointed. On a cover letter, you have the opportunity to link together your academic background with previous experience in other jobs, as well as other factors which you may not have been able to fit in on your CV. You can also explain your current employment status or reasons for having left your previous job.
The benefits of a cover letter are more than being able to present and explain yourself to a great extent, as writing a cover letter is also considered "going the extra mile". Through sending a personalised cover letter to a company, you show dedication and willingness before you even start the job. Within the letter, you can demonstrate knowledge on the company, the job position and share ideals and goals which you feel make you a strong candidate.
This information guide explains what a cover letter is, why you should include a cover letter for a job application, how to write a cover letter, the format of a cover letter, and useful advice for cover letters.
What is a cover letter?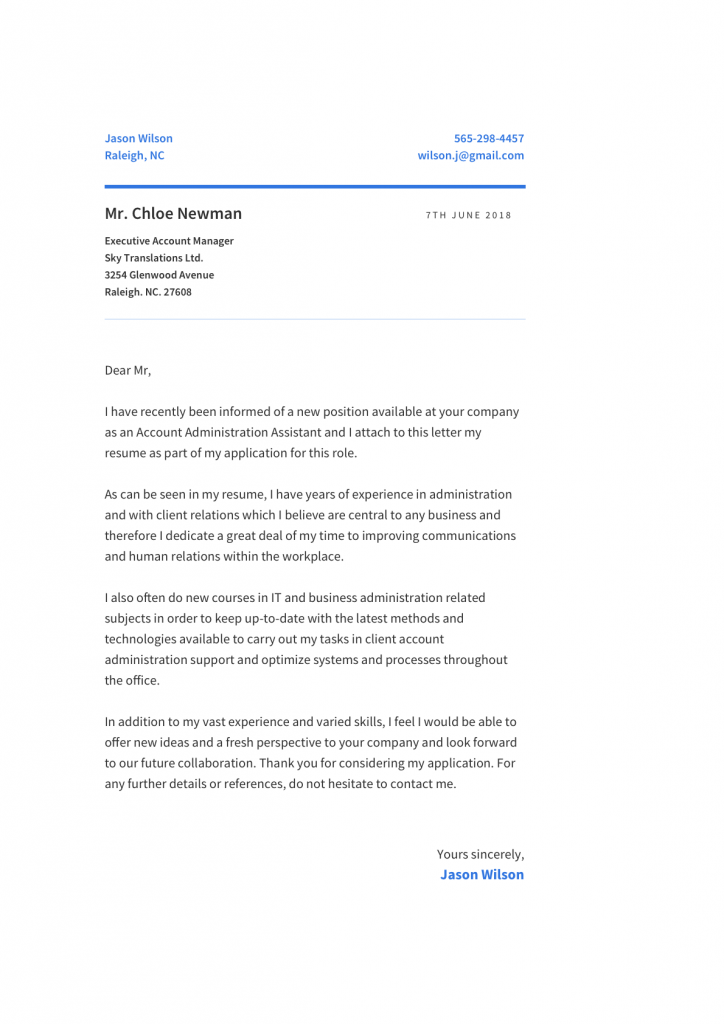 A cover letter is a formal letter with which you present recruiters in conjunction with your CV.
It's useful for introducing yourself, making an impression and generally getting your foot in the door with hiring managers. It gives you an extra advantage when applying for a job, especially when there are a certain percentage of candidates who couldn't even be bothered to write one. Hence, including a cover letter in your job application shows devotion and willingness.
A cover letter is a good way of standing out from the crowd and interesting recruiters. Seeing as you've already written a CV with your personal profile neatly compacted into one or two pages, you can go ahead and expand on factors which you think make you stand out, or enhance your compatibility with the job position.
Essentially, it's an introduction to your personal profile and CV, as well as a way of presenting yourself, your experience, characteristics and why you think you are a suitable candidate for the job specification, in addition to your values, which may (and ideally should) coincide with the company's values.
Why include a cover letter in a job application?
Many question why it is useful to include a cover letter in a job application, arguing that your CV should do your job for you. While a cover letter isn't always solicited by companies, it can be useful as a way of presenting your personal profile to employers.
Your cover letter makes your job application stronger on many levels:
A cover letter can explain more than a CV can.
You can cover topics that you weren't able to fit in on your CV, or that you would like to elaborate on or reinforce.
Writing a personalised cover letter shows interest, determination and eagerness.
You can explain your current employment status and why you left your previous job or are looking to do so.
Employment gaps can be explained as well, such as maternity or study leave.
it's not necessary to include a cover letter in all job applications. Most recruiters specify whether they would like to receive a cover letter with a CV.
In the event of emailing a job application to a company, it is recommendable that you include a cover letter, as a form of presenting yourself. This can also be said for posting a job application, though nowadays most job applications are completed and processed online.
Platforms such as LinkedIn only leave room for minimal details and a CV; however hiring managers often write contact details at the bottom of the job application with specific instructions i.e. whether you should include a cover letter or not.
How to write a cover letter
Your cover letter shouldn't bore employers. In fact, it should do the exact opposite and intrigue employers, making them want to read the CV attached with the cover letter.
It should give a rounded summary of work experience which prepares you for the job position, as well as skills (both personal and professional) that you possess which would benefit the job position and your work at the company.
The structure of a professional cover letter example is simple: it should be well-formatted and include a header (header format is optional and more American can British) with your contact details, the company's address, the date, opening paragraph, a main paragraph, a closing paragraph and your signature/electronic signature. For more information on formatting a cover letter, read the next section of this guide.
Start by thinking about your personal profile, your characteristics and the job specification.
Select the skills and work experience you possess which match up with the job requirements, as well as values and goals which you may share or admire about the company.
Include examples of the skills or work experience you are referring to, and demonstrate how this could benefit the job role or elements that you could bring to the company.
It is also recommendable that jobseekers research how to write a cover letter for the specific sector or industry they wish to enter. For example, the academic sector tends to vary in comparison to the business sector. Cover letters should be tailored to suit the type of job for which you are applying.
Convince employers you are the right candidate for the job with the points you list, such as valuable work experience in a similar post, and link elements and factors of your personal profile to the job specification. This allows hiring managers to visualise your capabilities and associate you with the job role, meaning you are more likely to be offered the job.
Just like with an online CV maker, you can speed up and facilitate the process of writing a cover letter with a cover letter maker online or use a cover letter template to format and structure your cover letter perfectly. Alternatively, writing a cover letter online or with a template is a good way of practicing writing a cover letter and can help you to make your own unique cover letter.
Cover letter format
The format of a cover letter is very important. It is the first opportunity you are given to make an impression on employers, meaning the layout, format and structure of your cover letter is paramount.
Clear structure: gives you a rounded and strong personal profile which increases your chances of getting the job.
Solid format: presents you well and shows employers your professionalism, as well as good MS office computer skills!
How to structure a cover letter:
You can choose to use a header with your contact details, or alternatively list them how you would in a professional letter

Include the company's address
State the date of writing the letter
The cover letter is usually divided into three sections/paragraphs: introduction, main body and conclusion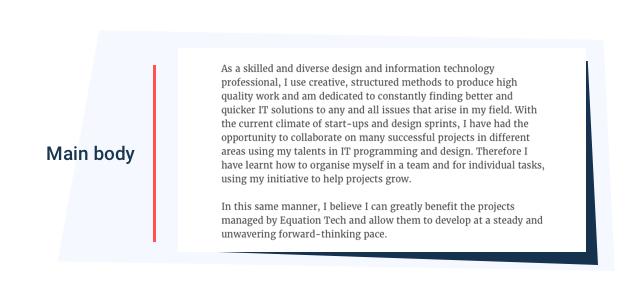 You should sign the letter (these days an electronic signature is fine)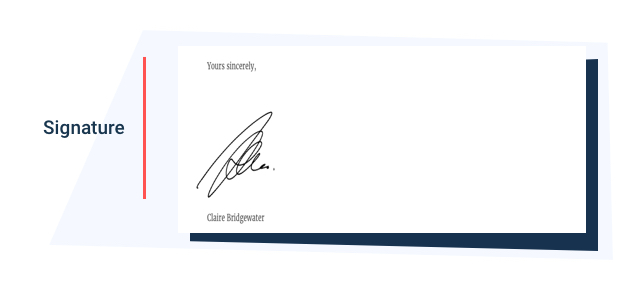 Choose a font which is easy to read and keep all format simple
A cover letter should usually range from half a page to one A4 page length
Cover letter advice
The importance of a cover letter can often be undermined, with fewer jobseekers including a cover letter with their job application these days. However, including a cover letter can increase your chances of getting an interview with the hiring manager.
Unless the job listing specifies that including a cover letter is not necessary, it's always recommendable to include a cover letter with your job application.
When writing a cover letter, you should consider the best way to try and get through to recruiters. A key point which hiring managers will often look out for, is whether or not you have researched their company well enough.
Introduce yourself
Talk highly of yourself
Relate to relevant work experience
Explain qualifications and skills you possess which make you a strong candidate
Don't draw attention to your flaws. Instead, comment on positive factors which make you a strong candidate for the job
Express your interest in the company and the work they do
Research the company and the job position well
Comment on an aspect of the company you like (a value or certain system they may have) as well as why you want to work there
Communicate your current situation (employment status, reason for looking for a new job etc.)
Close with a winning sentence, which will leave employers on a strong positive note
Other tips:
Ensure that your email address is professional
Tailor each cover letter to each job listing. Recruiters will notice when they are reading a generic cover letter
Remember to proofread your cover letter! It may seem tedious seeing as you just wrote it, but you'd be surprised how many typos can creep in. e.g. from and form won't show up on autocorrect!
Don't repeat yourself relisting skills or work experience, as recruiters will get bored or think you are trying to bulk out your letter
Jobseekers who include a cover letter with their job application enhance recruitment possibilities through providing another source and making a bigger connection through submitting a cover letter as well as a CV.
You can create a cover letter using an online cover letter maker, or use a cover letter template which will help with the format and structure of your professional cover letter.
You can also find CV templates and CV writing advice if you'd like to know more about writing a CV.
Last modified on 13 November 2020