The beginning of your CV is crucial when it comes to making a good impression on recruiters and making it on the applicant shortlist. Recruiters don't spend long scanning CVs, so it's essential to capture their attention with a good start to your CV job application.
What are the best ways to start a CV and how can you create a CV which will leave recruiters wanting to call you right away?
Here are some things to think about when starting a CV:
CV design
Personal details
Personal statement
CV design
Choose a captivating CV template which highlights your professionalism and outlines the most important sections of your CV. This is key when beginning your CV, as the last thing you want is to write out your CV and then realise that the CV template isn't as professional as you would have liked or the format is dodgy.
On the other hand, you can use our OnlineCV creator to build a CV which saves all of your information on your own account. So if you know that you're indecisive or might want to change your template for applying to different jobs, this is the ideal option for you. Create a CV, choose a different template and in a click, all your information will transfer onto the other CV template!
You should also take into account which sections you want recruiters to read first by prioritising them and listing them first on your CV. A tactical way of making your recently achieved degree or last job stand out.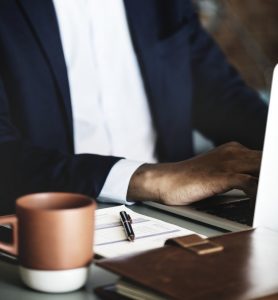 Personal details
It might seem obvious that this is how to start your CV, but due to it being one of the most simple parts of your CV, it's easy to miss little mistakes or make simple improvements which can make a big difference at the beginning of your CV. Make yourself easily contactable by making sure everything is correct, clear and well-formatted on your CV.
Recruiters will often copy and paste your email to make sure it goes to the correct address, so ensure that it is well spelt and not in capitals. It's also wise to write a professional email address on your CV. If you don't have one, better late than never!
If you are active on online business platforms, leaving your LinkedIn handle could be helpful for recruiters and grant them easier access to your business profile.
Personal statement
Begin your CV with a personal statement to intrigue hiring managers and set the tone. Personal statements are great for projecting your character, skills and whereabouts. It's a good way to start your CV, as it lets prospective employers know your current status and why you are interested in working for them.
If you're wondering how to start a personal statement for a CV, you can read more about writing personal statements and get top tips and CV writing advice.
Once you have started your CV, you can start thinking about the bigger picture and chunks of your CV such as your work history, academic background and skills.
Tips for writing the start of your CV
Reread the job description to get a good idea of the type of candidate necessary for the job and powerful vocabulary you can use to tick the boxes.
Think about which sections of your CV you would like to list first. Have you just finished a degree or qualification of which you feel particularly proud? Or would you rather list your work history and highlight the job position you last worked?
Check out CV examples to get an idea of the kind of CV you wish to create before starting your CV.
View CV templates and examples to inspire, but not steal! Your CV should be made by you and not made up of lots of people's CVs and wording. Make your CV unique, make it you.
For more ideas on types of CVs, learn more about CV templates and different types of CVs for jobseekers at different stages of their career.