Managing job interview follow-ups and deciding when to contact your prospective employer can be tricky, especially when it comes to remembering to ask all the important questions at the end of an interview. Sometimes it's not quite clear when or how you will be contacted after an interview or whether you have to do anything at all.
So, should you do something about it? It's always great to show your interest in job posts and calling or sending an email after an interview is an enthusiastic way of demonstrating your motivation and enthusiasm. That said, you don't want to seem desperate or too clingy, so when is it right to contact for a job interview follow-up?
Learn how simple it can be to finalise the job employment process without seeming neither desperate nor careless!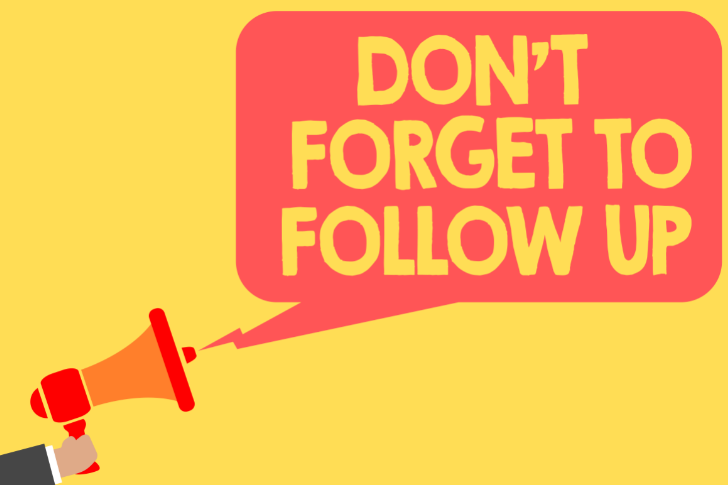 Is it okay to contact employers after a job interview?
It's almost always a good idea to contact employers after a job interview, even if it is a thank you email, appreciating the time taken by the employer to meet you. This is also a good way of subtly sending an interview follow-up. It's usually a good idea to send an email like this a day or two after the interview.
If you were given the job at the interview and have either accepted or want to accept the job offer, you can still send an email confirming or stating that you would like the job and thank the recruiter for their time.
Interview follow-up situations
There are a number of different situations when it comes to job interview follow-ups:
The employer may have said they'll have called or sent you an email by said date and you've received nothing
You may have not been told whether or not you will be contacted and it's been a few days since the interview
You can't remember what was said and forgot to ask questions about the next steps of the process! (It happens, interviews can be intense)
These are just a few of the types of situations that can occur when deciding how to approach a job interview follow-up. It can be tricky to decide how to approach a job interview follow-up depending on the situation.
Let's take the first example:
The employer may have said they'll have called or sent you an email by said date and you've received nothing.
In this case, it is perfectly acceptable to send an email or call to check in. It's likely that the employer could have forgotten or has been very busy. It's also a good idea to check these kinds of things as they may have called the wrong number or sent the email to the wrong address.
What NOT to do for job interview follow-ups
Calling or sending an email to check in is always seen as a positive, enthusiastic approach when done professionally. However, there are certain things that you shouldn't do when contacting human resources departments or your interviewer.
Don't contact straight away (breathe and wait until later in the day, the next day, or even two days later)
Don't contact more than once or persistently! Doing this can instantly bin all your potential
Call and send an email (one is enough)
Contact more than one person
How to follow up on a job interview
Read our follow-up examples to get an idea of how you can follow up on a job interview.
By email:
Dear *interviewer name/Human Resources*
Thank you for your time last Friday. I felt very honoured to have been shortlisted by your Human Resources team and enjoyed chatting about the improvements that I would make were I to join the IT team and the values that I share with the company.
Please let me know if there is any additional information that I can provide for you.
Looking forward to hearing from you,
*Name*
By phone call:
When the recruiter picks up, state your name and explain that you had an interview on *day* to jog their memory
Stay calm and don't rush anything
Listen carefully to everything said
Try to sound positive (without overdoing it)
Top interview tips to help avoid interview follow-ups
Here are some pointers that could help with avoiding confusion or the need to worry about interview follow-ups:
Try to remember to ask at the end of the interview what the next steps are
Check your email inbox frequently and make sure you check the junk folder, too
Don't leave your phone on silent in case you receive a call
Make sure you get to the interview stage with a professional CV that you can design using an online CV builder that does all the hard work for you!